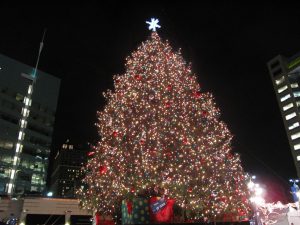 It looks a lot like Christmas, everywhere you go! There are so many things to see, do and hear in and around Detroit. So whether you're not quite in the Christmas spirit yet and need a nudge, or you want to further immerse yourself in it, here are some Christmas festivities in the D:
You can't go wrong with Christmas music.
The Four Tops are appearing at the MotorCity Casino Hotel on Thursday, December 13th, playing holiday classics as well as their hit songs. Click here for more info.
A few days later, on the 16th, Mannheim Steamroller will perform Christmas music at the Fox Theatre. "Who or what is Mannheim Steamroller?" you might ask. They play a lot of traditional Christmas songs like you've never heard them before. Check out their website and I bet you'll say, "Oh, I've heard that before!"
Icy thrills
If you'd rather be outside and get some exercise (that doesn't involve walking around a shopping mall), grab your ice skates and head to Campus Martius Park in downtown Detroit. The park offers ice skating all winter, and a nearby café serves hot chocolate to keep you warm and toasty while you relax and watch other people fight the holiday crowds.
Keeping to the ice theme, you can head to Ferndale this weekend for the Holiday Ice and Winterfest Market. You can check out dozens of ice sculptures—including some ice carving demonstrations—go on carnival rides, see live reindeer and of course, visit with Santa! The frigid fun takes place this Friday-Sunday, December 7th-9th.
This is just a snippet of holiday events going on in the D. I am sure there are many more. Do you want to mention one that I didn't include? If so, write it in the comments section below.
Ho! Ho! Ho!
–Scott