As you can imagine, it's quite an undertaking to convert an old manufacturing plant into a U-Haul Moving and Storage Center. A lot of people have spent a lot of hours doing a lot of hard work to make U-Haul Moving and Storage of Detroit a reality. Regular readers of this blog have met Dennis from Detroit Elevator Company and the crew from K&K Concrete Construction.
But you haven't met the man in the middle of everything, our project manager Tony Balcerzak. He prefers to be out of the spotlight, but we certainly feel he deserves some recognition for all he's done and continues to do as we work toward our grand opening.
Balcerzak is a Detroit native who lives and dies with the Tigers and Lions. He's been working for U-Haul for about 25 years now.
"I've been associated with Detroit my entire life. I was born and raised in Detroit, and back in the '70s I made the exodus to the suburbs, but I've always worked in Detroit," Balcerzak noted recently as he took a break from the construction efforts at the building. "I actually graduated at a school right down the street here. You can actually see on Woodward … you see the church with the big gold statue? That was my high school, so it's kind of coming full circle."
"Coming full circle" also is a good description of the building that is now U-Haul Moving and Storage of Detroit. It once was a bustling building before being abandoned and falling into disrepair, but now it's again filled with people and activity. And it's all happening under Balcerzak's guidance.
"As the onsite project manager, anything and everything that happens in the building goes through me," Balcerzak explained. "I've got the authorization from (U-Haul CEO) Joe Shoen to take care of it like it was my own."
Amazing transformation
Balcerzak and his crew started working on the building in July, and it certainly hasn't been an easy undertaking. He says one of the biggest challenges early on was showing up early in the morning to a building with little or no electricity.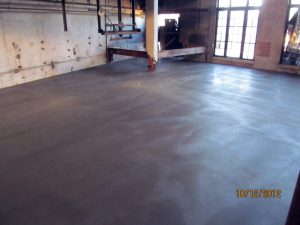 "Hearing the bump in the night and not knowing where the noises were coming from, it was a little unnerving in the beginning," he said. "We finally got used to it and started settling in, and I feel very safe now in the building and in the surrounding area."
In the months that have followed, the transformation from an abandoned building into U-Haul Moving and Storage of Detroit has been nothing short of amazing. All you have to do is read the "Building Buzz" updates on this blog to see some of the huge projects Balcerzak and his crew have completed. But one of them stands out above the rest, in his eyes.
"The showroom floor," he said. "It was a serious challenge, but it was fun. When I walked into the room the first time, I had no clue what the showroom was going to look like. But you grow into it, and you kind of adapt and overcome," he continued. "We turned a 40-foot room into a 27-foot room with cathedral windows, and it's all come together."
Past, present and future
There's a lot of work left to do, but Balcerzak can see the finish line. As he looks ahead to finishing this massive revitalization project, he can't help but also look back at the building's past.
"The intent is to change as little as possible," he said. "It's an iconic building that was part of my childhood … Nabisco animal crackers, Oreo cookies. And now here we are with U-Haul, which is also iconic and is just going to carry it into the future, because people are not saying the 'U-Haul building,' they're saying the 'Nabisco-U-Haul building,' so it's already starting to get that reputation in the city.
"I show pictures to my friends all the time," he continued, "because I'm really excited about the building."