In our previous posts about the Detroit Future City plan, we discussed how U-Haul will fit into the first two out of the four horizons in the plan. During the first five years, the plan focuses on stabilizing the city. The next 5-10 years focuses on improving upon the city. The third Horizon of the plan focuses on the next 10-20 years of Detroit's future.
Horizon 3 in the Detroit Future City plan is meant to sustain the improvements made in Horizon 2. According to this plan, in 20 years Detroit should see its population stabilized and have an increase in local jobs.
In 20 years, U-Haul will have a well established moving and self-storage center in the heart of Detroit. Not only will this provide an increase in tax revenues for the city, but also jobs for the community. Residents and local small business owners will benefit from the availability of truck and trailer rentals, moving supplies, self-storage units and portable U-Box storage containers.
Another facet of Horizon 3 states that "all neighborhoods have become regionally competitive places to live because of housing and transportation affordability." By choosing a historic building in a less-populated area of the city, U-Haul is helping to increase traffic to other potential businesses in the area. An area with more activity will undoubtedly see more development of residential as well as commercial establishments.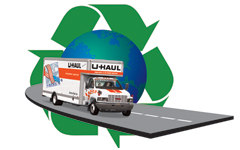 Horizon 3 of the Detroit Future City plan also notes that in 20 years Detroit will be "visibly more green, with air, land, and water quality metrics improving." Every U-Haul customer is provided with the option to donate to the Conservation Fund's Go Zero® program—an initiative that has planted over 245,000 trees in the United States. Our Canadian customers have the same option to donate to Tree Canada. Through customer donations, U-Haul has helped to plant more than 77 million trees in Canada.
Aside from the company's tree-planing initiatives, our sustainable practices permeate our entire organization. To learn more about U-Haul sustainability practices, click here.
Just like the goals in the Detroit Future City plan, it's our goal to help the city reestablish vibrant communities. We are in it for the long haul!
Check back for more information on how U-Haul is going to help with the next 50 years of Detroit's future and beyond.
For more information on the progress of our renovation, check out our weekly building updates.
Where do you see Detroit in 2030? What kinds of changes would you like to see in the next 20 years? Let us know in the comment section below.