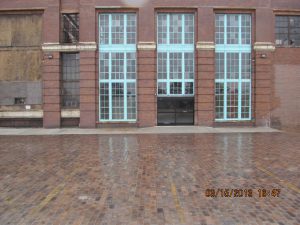 Before I get into this week's update, I'd like to thank Jennifer Weston for last week's update. I was off at a week-long conference and really appreciated the help. Also, thanks to Paul Beshouri for his Curbed Detroit update last Friday. We appreciate the interest and the support for what we are doing here at the U-Haul Nabisco building in New Center Detroit.
We are at a stage in our construction where less "dramatic" work is getting done, but all of it is important to creating a positive customer experience and for the efficient operation of the building. The big-ticket event we are all waiting for is the installation of the counters and model storage rooms in the showroom.

Showroom odds and ends
We installed the lighting fixtures on the north wall above the platform. When the counters are installed, we will install those lights.
The HVAC ductwork has been shortened and rehung and the heating portion of the unit is ready to go.
The heavy metal doors in the coal-viewing window have to be removed and replaced by a window that is being made by Henderson glass; should be completed in about 10 days.
More drilling on the third floor
The plumbers are installing the drain in the third-floor restroom, which involves core-drilling through 12 inches of concrete to the floor below. They're also installing a water heater which will service the third and fourth floors and, if needed in the future, the second floor. The painting is in progress for both the restroom and adjoining storage room.
A bit of building history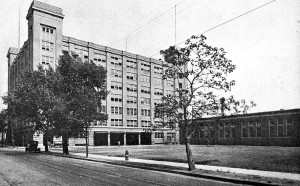 Remember the tunnel we discovered? It once connected the main building to a one-story building across Forsythe Avenue that housed a garage and a stable and supplied that building with power, heat, light and water from the powerhouse. The building was 240 feet long and 122 wide and was capable of housing 80 wagons and automobiles and 50 horses. The garage was equipped with a gasoline and oil system and had a separate repair shop. The same attention to detail in providing for employee working conditions was applied to the stable, where attention to cleanliness and safeguarding the health of the horses was paramount.
This blog was created to let the community know that U-Haul is in Detroit, and to share our plans with you and to get input from the community. We want to hear from you. Tell us what you like and don't like about our posts, building plans or anything else you want to share about Detroit. We are excited to be part of the Detroit community and want to learn from you!
Next post, 3/25.
–Pref