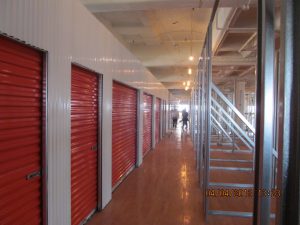 More orange doors are sprouting at U-Haul Moving and Storage of New Center Detroit as construction of the 275 storage units on the fourth floor moves along. We've started on the second row of rooms. Construction is complete on the 278 rooms on the third floor; all that's left is the cleanup.
Showroom shaping up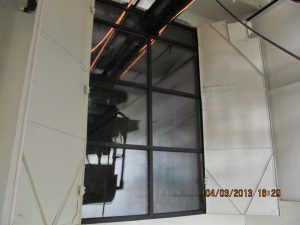 As I mentioned in my last post, the showroom vision is becoming a reality. The model storage room has been framed in and will be completed this week. More precise drilling is required here too. We had to be careful where we drilled, because of the PEX tubing running through the concrete.
The frame and glass for the coal room viewing window are in place and the counter has been positioned, but not installed.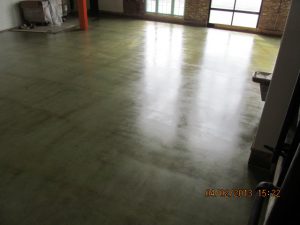 The showroom floor has been stained and two coats of sealer have been applied. Once we complete the installation of the counter, the final coat will be rolled on. And, to help keep the heat in the floor, we've sprayed the basement side of the showroom floor with 2 ½" of closed-cell insulation.
This blog was created to let the community know that U-Haul is in Detroit, and to share our plans with you and to get input from the community. We want to hear from you. Tell us what you like and don't like about our posts, building plans or anything else you want to share about Detroit. We are excited to be part of the Detroit community and want to learn from you!
Next post, 4/15.
–Pref