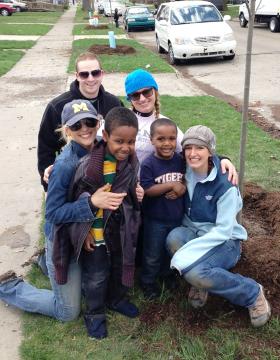 Did you know that Detroit was once known as "the city of trees"? If you have been to Detroit recently, then that fact may surprise you. That's because between 1950 and 1980, nearly half a million trees in Detroit were lost to Dutch Elm disease, urban expansion, and attrition. At the same time, economic restraints made it impossible for the City of Detroit to replace those trees. As a result, the lush trees that once lined neighborhood streets and surrounded parks and schools are now more of a memory than a reality.
That is what fuels the mission of the non-profit organization, The Greening of Detroit. This well-established resource agency partners with federal, state and local agencies to assist various groups in their efforts to improve the ecosystem in Detroit. By working collaboratively with the city, as well as corporate and community partners, they plant 6,000 – 7,000 new trees per year in parks, schoolyards and along neighborhood streets in an effort to restore the Detroit's tree canopy.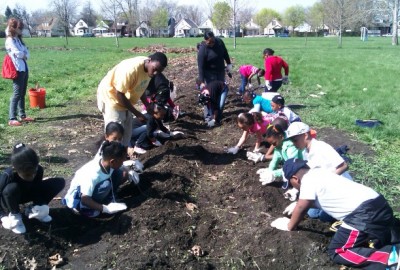 Not only is The Greening of Detroit helping to improve the environment, but also the community. Through environmental education, open space reclamation, and vacant land management, the organization is able to make a difference for future generations. The greening of Detroit is also focused on creating jobs. The Green workforce development training program was designed to provide unemployed Detroiters with valuable job training and certification in the green industry. To date, 187 participants have graduated from the program and 109 have landed employment in this growing jobs sector.
The Greening is also partnering with Detroit Public Schools to connect urban children to nature through environmental education programs that includes outdoor classrooms to help develop students' science skills; service learning projects that engage students in environmental projects in their own neighborhoods; and summer camps for economically disadvantaged youth — most of whom have few opportunities to spend time outdoors and little exposure to nature.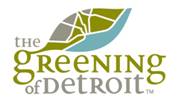 The Greening of Detroit's mission of inspiring sustainable growth of a healthy urban community through trees, green spaces, food, education, training and job opportunities is one that many Detroit locals are eager to support. For more information on what you can do to get involved in the cause, visit greeningofdetroit.com.
Have you heard of The Greening of Detroit? What do you think of the impact they are making on the city? Let us know below in the comment's section.