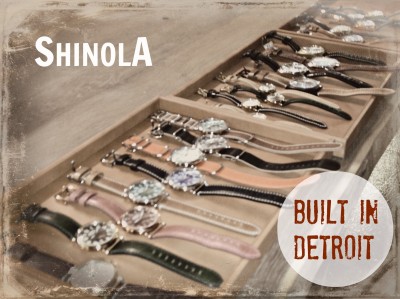 Detroit – Not the first city you think of when it comes to watch manufacturing. Why? Because there is only one watch manufacturer in the U.S, Shinola. When we learned about our new neighbor- Shinola, and their commitment to building in America, we had to reach out. What most people don't know about U-Haul, is that we are also built in the U.S.A. Our trailers are designed and tested in Tempe, Arizona, and then manufactured and assembled at 8 plants throughout the U.S., including our assembly plant in Novi, Michigan. The main purpose of our recent visit was to meet our neighbors and thank them for their commitment to the great city of Detroit… and of course, drool over the swanky watches on display. As a bonus, we also learned a lot about the company, its principles, and plans for expansion.
We met with Shinola Community Manager, Brian Ambrozy, to get the skinny on Shinola Watches. As a Detroit Native, Brian is more than thrilled to be part of a team that is changing the industry of watch-making. Shinola, headquartered in Detroit, is excited to open a retail shop right here in Detroit on Cass Avenue. An exact opening date has not been established, but they're going to kick it off with an exciting community event that will likely get your attention. It seems that everyone in Detroit is talking about this company. This not surprising, because after taking a look at their new watch line and sweet rides, I am even a bigger fan than I thought I was before. In addition to Detroit, they will be opening a retail store in Tribeca, New York on Franklyn Street sometime in June. If you can't wait until the opening, then keep your eye on their website as they will have more watches available online soon. They are even ramping up to have their watches sold at select retailers around the world. However, they won't just let anyone put Shinola watches in their retail store. In fact, any retailer that wants to sell Shinola products is required to come to the Shinola headquarters to learn about their culture and product first.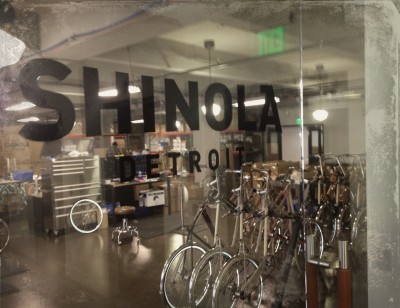 Shinola is a watch company, so we were surprised to see a significant production of bikes at their headquarters. We learned that the bike product line came about sort of by accident. They made some custom bikes to be used as an accessory to the watches on display. People were so drawn to them that the bikes became a well sought out retail item. It turns out that their bikes were satisfying a market that is currently under-served. Shinola bikes are also hand crafted in Detroit and will be sold in Shinola retail stores. In fact, you will even be able to watch the manufacturing process live at their new Detroit location this summer!
If you are interested in getting a peek into the magic of this manufacturing process sooner, Shinola is giving tours of their facility every other Friday. If you have never been to a manufacturing plant, this is a must. I'll just warn you, the song "Born in the U.S.A" may get stuck in your head, at least that's what happens to me when I visit our manufacturing plants, and during my visit to Shinola! It's a great feeling to know that a company is dedicated to giving back to the community they serve, by providing jobs and quality products made right here in the United States.
Have you heard of Shinola? What do you think about their efforts to bring watch manufacturing to Detroit? Will you visit their retail store? Tell us in the comments below!