Another busy week here in Detroit at U-Haul Moving and Storage of New Center. We are definitely in the home stretch of our adaptive reuse of this 93-year-old Nabisco building. It was also a week where we learned a bit more about the building's past and about the man tapped to serve U-Haul customers in the Midtown area.
A relic from the past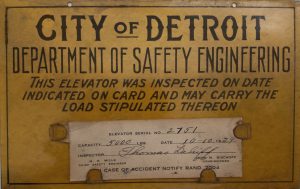 Sometimes when you are cleaning up a place, you find a gem from the past. Our crew had one of those moments while cleaning up around the north freight elevator. They discovered a City of Detroit elevator inspection plaque from 1929. What was so cool about it, was that the hand-written inspection card was still in place and legible.
Interview with Anthony Jones
Last week was new General Manager Anthony Jones' first full week at the building. We caught up with him as he was doing his rounds and asked him to share his thoughts about the himself, this building and Detroit.
[youtube http://www.youtube.com/watch?v=M4loZO7jkxY?rel=0]
Storage floors
We're down to detailing on the third and fourth floors. All of the third floor storage rooms have numbers on the doors, and the exhaust fans and the bathroom door are scheduled for installation this week.
On the fourth floor, all of the rooms are now built, the elevator area has been painted and the handicap doors have been installed. The crew will be adding the white trim this week and installing the door to the bathroom.
This blog was created to let the community know that U-Haul is in Detroit, and to share our plans with you and to get input from the community. We want to hear from you. Tell us what you like and don't like about our posts, building plans or anything else you want to share about Detroit. We are excited to be part of the Detroit community and want to learn from you!
–Pref