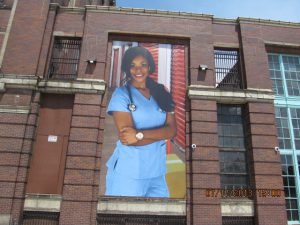 If you haven't driven by U-Haul Moving and Storage 0f New Center lately, you've missed a head-turning, eye-popping three-story banner depicting a young health-care professional standing proudly in front of her indoor storage unit.
Located on the Lodge Freeway side of the building, this amazing image is visible for blocks and has garnered a lot of attention from passersby and from folks who work in the area.
Hat's off to the creative folks in our Art and Construction Departments. In addition to being an attention-getting advertising element, this huge banner also solved a vexing problem: what to do with a seven-story piece of dilapidated plywood that marred an otherwise classic exterior.
Like its counterpart on the south end of the building, the banner can be changed. The possibilities are endless. Genius!
Green lights
Not literally. We've installed energy-efficient LED sconce lights on all sides of the building. These lights put out a ton of light around the perimeter of the building in a manner consistent with our sustainable-construction practices.
Product is on its way
Product-display modules have been delivered and are being installed in the showroom. Inventory should be arriving next week.
Paint it black
The trim on the glass doors and headers for the loading/unloading area have been primed and painted black, which gives them a cool and classic look, complementing the teal trim of the cathedral windows.
Facelift

The elevators have received a needed facelift…freshly painted and decaled.
Final inspections imminent
There are two final inspections that are required before we are given our Certificate of Occupancy (C of O). The first one is the fire panel inspection. It was scheduled a week ago, but a circuit board we were waiting for didn't come in on time. As soon as it comes in, we'll reschedule. The second one is the building inspection, which is scheduled for next week. Once we pass those two, we should receive our C of O and will be able to open for business.
No predictions yet, but the end of August is a definite possibility.
This blog was created to let the community know that U-Haul is in Detroit, and to share our plans with you and to get input from the community. We want to hear from you. Tell us what you like and don't like about our posts, building plans or anything else you want to share about Detroit. We are excited to be part of the Detroit community and want to learn from you!
–Pref