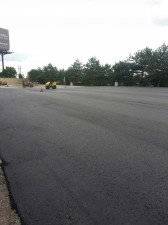 There has been a lot of activity at U-Haul Moving and Storage of New Center…literally. After numerous weather delays, the outside lot received a major facelift.
Paving the way
Over the past couple of weeks, with rain delays, the crew trenched the lot and laid the conduit and electrical lines for the lot lighting…and built the concrete bases for light-pole bases and base plates.
With the poles in place, the crew graded and prepped the lot for paving, which was delayed a week because of rain. Gravel trains were brought in to remove concrete and construction debris and the lot was graded. Wednesday and Thursday the lot was finally paved. It looks great and is ready to sport a 5-Star lineup of U-Haul trucks and trailers.
Measuring up
We got a preview of things to come when the local U-Haul marketing company brought over 14′, 17′ and 26′ U-Haul trucks and backed them into the loading/unloading area. All were perfect fits…as we knew they would be.
Soon to be part of an alt-fuel network

A new addition to the load is a concrete pad that will support a vertical propane tank, which will make U-Haul Moving and Storage New Center part of a network of more than 1,000 alt-fuel/propane filling stations in North America.
Final inspections passed; certificate of occupancy in sight
Getting the lot in shape was exciting, but the best news of the week is that we passed our fire and final building inspections on Thursday. Tony Balcerzak went to the city offices today and applied for our certificate of occupancy. We're hopeful we will get that sometime next week.
And then…stay tuned!
This blog was created to let the community know that U-Haul is in Detroit, and to share our plans with you and to get input from the community. We want to hear from you. Tell us what you like and don't like about our posts, building plans or anything else you want to share about Detroit. We are excited to be part of the Detroit community and want to learn from you!
–Pref