U-Haul® Team Members arrived in bright orange shirts with smiles on their faces to pack food boxes for people struggling with hunger. When the U-Haul Volunteer Day at St. Mary's Food Bank was finished, Team Members had packed 1,900 pounds of food — enough for nearly 30,000 meals.
Known as the world's first food bank, St. Mary's has been relieving hunger in Arizona for more than 50 years. U-Haul has supported the charity since 1992, and Team Members regularly volunteer their time to pack food boxes.
Looking Outside Ourselves
Erinn Persaud, new business supervisor for Oxford Life Insurance, was a first-time St. Mary's volunteer at the March event.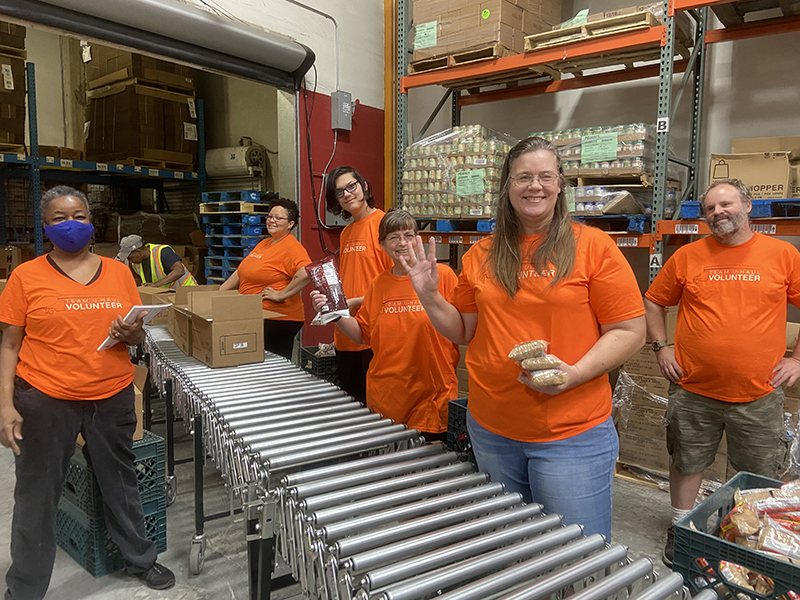 "When I learned that U-Haul needed Team Members to pack food boxes, I decided to give it a try," Persaud said. "With grocery prices rising, many people from underserved communities are struggling to get their basic needs met. The least I could do was to spend a few hours of my weekend putting together some food for them."
Persaud brought three of her family members along.
"My brother, sister, son and I had a fun little rivalry going on with other volunteers to see who could pack the most boxes," Persaud said. "We enjoyed chatting with all the volunteers and getting to know them better. After the event, my family and I talked about how important it is to look outside ourselves and be grateful for what we have. I'm so glad that we all decided to volunteer."
"There's something for everyone here!"
"I have packed boxes at St. Mary's Food Bank more than a dozen times," U-Haul Media and Public Relations specialist Kelie Budd-Hale added. "And every single time I've done so, it's been a heartwarming experience.
"I consider myself very fortunate because I've never had to worry about where my next meal would come from," Budd-Hale continued. "Because of that, I want to give back to as many people as I can. The best way I know of doing that is through volunteering my time."
During the event, Budd-Hale and her friend Tina White loaded packs of spaghetti into hundreds of boxes, each filled with essential nonperishable groceries.
"It was quick, easy and organized," Budd-Hale said. "Everyone should give volunteering at St. Mary's a try. There's something for everyone here!"
Creating a Better Tomorrow
U-Haul Chief Sustainability Scientist Dr. Allan Yang and his daughters, Victoria and Veronica, participated in the St. Mary's volunteer event. Their goal was to serve others, make new friends and, in the case of his daughters, fulfill an educational requirement.
"My sister and I are part of an organization called IMPACT Scholars, which requires you to complete 100 hours of community service by your senior year of high school," Veronica explained. 'When my dad invited us to come volunteer at St. Mary's, I didn't know what to expect at first. But I ended up having an awesome time.
"It was so cool getting to volunteer alongside people from all walks of life. We were all there with a common goal: to give back to people in need. It felt great knowing that we were making a difference in our community. I want to go back again soon."
For Yang, volunteering at St. Mary's aligns perfectly with the overall goals and values of U-Haul.
"There's a saying I love that goes, 'I am who I am because of who we all are,'" Yang noted. "At U-Haul, we pride ourselves on doing all we can to make our communities better and more sustainable. Through our longstanding partnership with St. Mary's, we have had the privilege of helping people live well-fed, healthier and happier lives. In the end, what's more beneficial and sustainable than that?"