Many Arizona kids in need had a Christmas to remember this past December, thanks to the charitable efforts of Southwest Human Development and Team U-Haul.
Southwest Human Development is a local nonprofit that provides welfare services, counseling and a variety of other vital resources to children and families. Every December, Southwest Human Development holds a Gingerbread Kids Holiday Gift Drive, where people can "adopt" and purchase gifts for kids.
U-Haul has participated in the gift drive since 2018, with many Team Members signing up each year to purchase gifts. Last year, the U-Haul Midtown Campus in Phoenix prominently displayed a Christmas tree covered with paper tags, each with the name of a child ready to be "adopted."
Download the U-Haul app from Google Play: https://play.google.com/store/apps/details?id=com.uhaul.android.myuhaul&gl=US
Download the U-Haul app from Apple Store: https://apps.apple.com/us/app/u-haul/id989307692
For several Team Members, this was their first time participating in the gift drive. For others, it is a beloved holiday tradition.
"I always try to 'adopt' two kids for the gift drive," said Meg, Horlacher, a Moving Help fraud specialist. "It's become one of my favorite things to do during that time of year. I make buying the presents a special occasion. I go with my mom and we select a ton of gifts together for the kids. It makes me so happy to know that I'm helping make Christmas special for children in need.
"It really is the season of giving and spreading joy, so the drive surpasses a lot of other things that I could be doing in my spare time. I'm so thankful that U-Haul provides annual opportunities for us to participate in the drive, and I plan on doing it for many years to come."
Planting a seed of giving
U-Haul senior accountant Jean Agregado learned the importance of volunteering at a young age, thanks to her parents' examples.
"Growing up, we would visit my parents' hometowns around the holidays and bring gifts to relatives and friends who didn't have much," Agregado said. "This planted a seed of giving in my heart as a child, which has grown into a strong love of service. Now, I actively look for opportunities to give back throughout the year, especially during the holiday season."
Agregado views the gift drive as an opportunity to bond with her 15-year-old daughter, who helps her pick out the gifts. "She's a fountain of information about trendy toys and clothing styles," Agregado noted. "She has a much better understanding than I do of the gifts that today's kids enjoy. We have lots of fun shopping together.
"I hope that I've been able to help my daughter gain a love of service, just like my parents did for me. I would be so proud and happy if this tradition continued with her and her own kids someday."
Investing in our future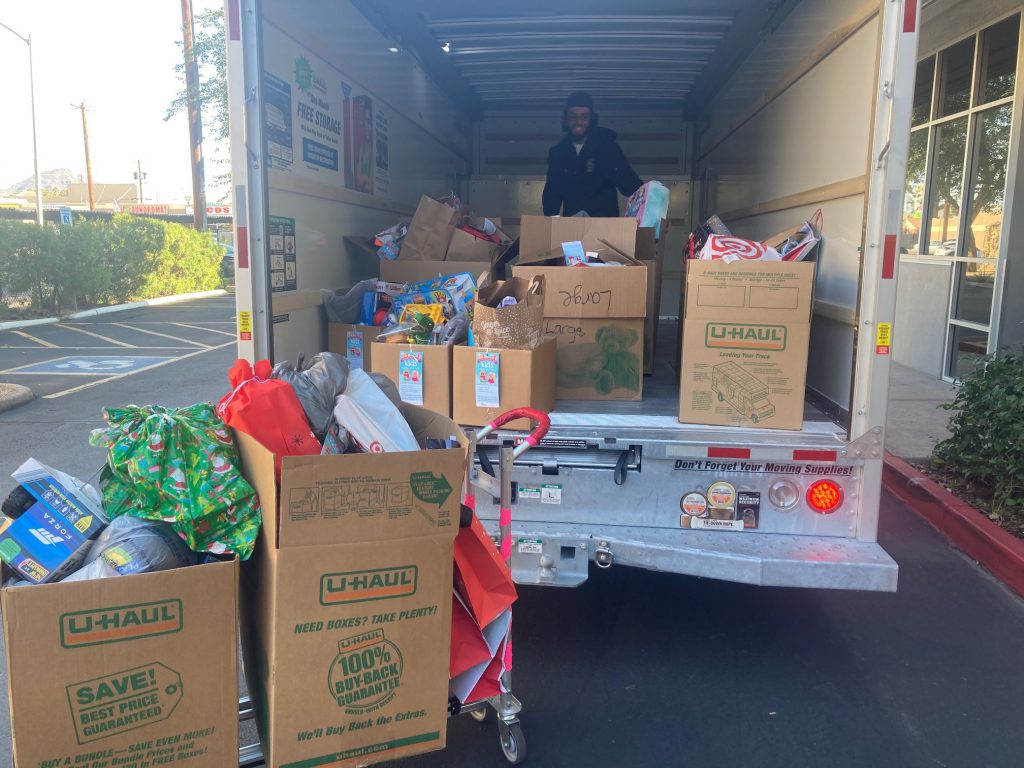 Annette Sutfin, Philanthropic Experiences senior manager for Southwest Human Development, is passionate about providing a better life for kids and families. That applies not just during the holidays, but every day.
"Research shows that stress levels can have a negative impact on people's parenting abilities," Sutfin said. "One big source of stress around the holidays, particularly for families who are struggling financially, is the fear that their children won't receive any presents.
"By providing fun gifts through the drive, we're able to lessen parents' stress and allow them to focus on taking care of the essentials. Corporate partners like U-Haul play such a crucial role in making that happen, and we at Southwest Human Development are so grateful for the work that they do. When we rally together around causes like these, we invest in our future by showing kids that they truly matter and are loved."
To read about U-Haul Company's work with another Gingerbread Kids Holiday Gift Drive, click here.