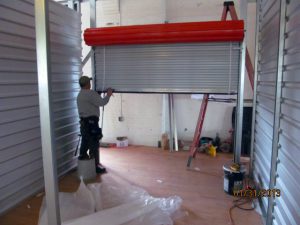 We made good progress on the build-out of the self-storage units on the third floor. The frames are in place and doors have been installed in the first row. This week, two workers will be hanging the white outer skin on the first row while the rest of the crew will start building the second row.
The plan is to complete complete two rows per week. We did have to remove and replace some of the overhead lights because they were six inches lower than the storage walls.
Doors and windows looking good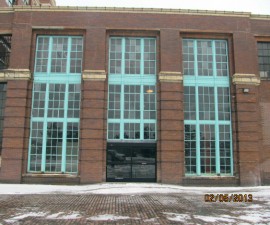 The automatic door for the showroom entrance arrived last week, but it was 1-¾" too big. We sent it to the shop and they returned it the next day, resized and ready to go. It's installed and looks great. With the help of a little demo work, we also installed a door between the loading dock and the lobby. The doors to the manager's office have been scraped, repaired and painted, and look brand new.
The showroom also received a few more finishing touches last week. The large window on the showroom's east wall, as well as the windows near the clam-scoop bucket, have been painted.
Ramping up outside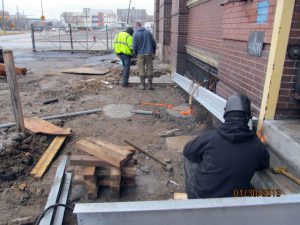 Work on the exterior handicap ramp resumed. The K&K crew installed the steel beams for the ramp and are ready to pour the concrete; we have to wait for a 35-degree day.
A bit of building history
The second and first floors of the building were used for receiving and shipping, and for storage of the finished product. There was a railroad siding at the rear that ran into the building alongside a receiving and shipping platform at the second-floor level, thus affording protection from the weather and greatly facilitating the handling of materials.
This blog was created to let the community know that U-Haul is in Detroit, and to share our plans with you and to get input from the community. We want to hear from you. Tell us what you like and don't like about our posts, building plans or anything else you want to share about Detroit. We are excited to be part of the Detroit community and want to learn from you!
Next post, 2/11.
–Pref